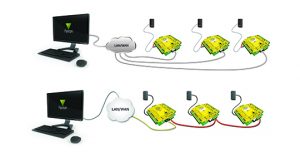 Access control is quite literally the security product to use for controlling access to your premises, or a specific area of your premises. Replacing traditional locks and keys, access control secures your building electronically, with codes, proximity fobs or biometrics. Large bunches of keys are common at commercial premises, but if those keys were lost imagine how many locks would need replacing to make your site secure again!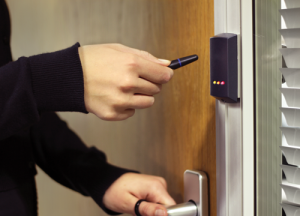 With access control, each staff member or visitor is issued with a unique code or card to gain access to any door, gate or barrier. They simply present their token card to a reader and access is permitted or denied. This gives you total confidence that your premises are only accessible by authorised personnel, something that is just not possible with a lock and key system.
There are two main types of Access Control - Standalone and PC based.
A Standalone system may be used to control access to one or two independent doors in a building. Access is gained by using a numeric code, or PIN with a keypad, or by presenting a proximity or token logs are not kept of who and when access was gained.
PC Based System being able to manage the system from your desk is a major benefit of using an access control system with a PC. This convenience will make your job so much easier, you can update access permissions at the click of a button. PC based access control is so easy to manage; users can be added to or barred from the system within seconds. This type of system can control any site, from just one door up to hundreds of doors, with thousands of users.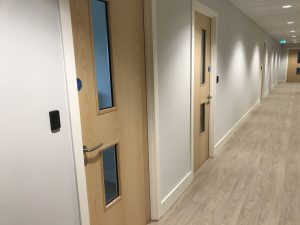 A PC based access control system means that you can view all staff and visitor movements on site, from your computer screen. The events screen will also show you when a door is forced. This helps you improve the security of your site and shows you when and where an event occurred. This is particularly useful for sensitive sites where an intruder can pose a serious threat and extra protection is a must.
Tri Security offers a full range of Access Control systems from industry leaders, such as Paxton, Maxxess, Siemens Cotag, and much much more. At Tri, we pride our selfs in using the very best and latest technology from Bio-metric fingerprint to a normal card and pin to be able to over a complete solution tailored to your needs.